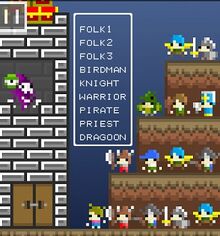 Hero Spawning
Edit
Heroes appear outside the tower over time.
Purchasing additional treasure chests increases the rate of hero appearance. Without chests, a hero will spawn every 220 seconds (3 minutes and 40 seconds), and each chests decreases that time by ten seconds, so having 9 chests (apparently the maximum according to the data so far) will turn that time into 130 seconds (2 minutes, 10 seconds)
Hero Drops
Edit
When killed, heroes drop either gold, health potions or monster eggs
Edit
Each Hero drops an amount of gold equal to your current INT multiplied by the number of hero (for example, Folk 1 drops 1*(current INT), while Birdman drops 7*`(current INT])
Health potions don't drop if you have any monster with the Sand Glass item equipped.
Each hero type drops a certain type of monster egg.
Hero Types
Edit
As the total intelligence score increases more types of heroes appear.
Edit